Custom Home Builders Watersound FL
Watersound FL Custom Home
This house was built in WaterSound Beach for a couple from Atlanta. The wife was a sales executive for a large media company and the husband was a financial planner. They wanted to build a large home for family gatherings for their two children, extended family and friends to enjoy their beach vacations.
Design challenges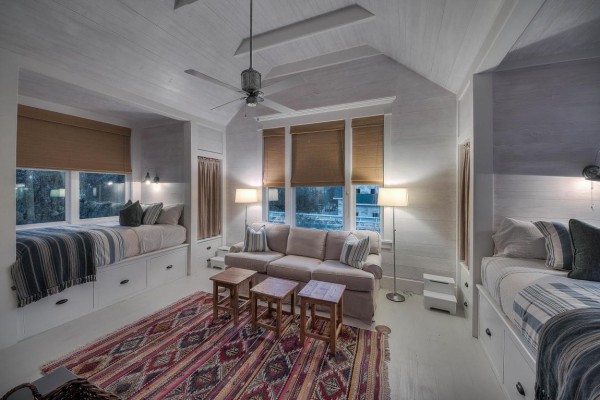 The owners wanted a three story house that would sleep 16 people, and their lot was on a corner, requiring extended setbacks.
While we were maxing out the square footage of the house, the owners taste in finish fixtures and features challenged the team to stay on budget.
Building Challenges
Three story home with lots of intersecting roof lines and a square cupola in the middle, sided with four windows made for an interesting framing job, but this grand design feature, in a somewhat dark attic area, lifted this hidden gem into a great spot designated just for the kids.
Description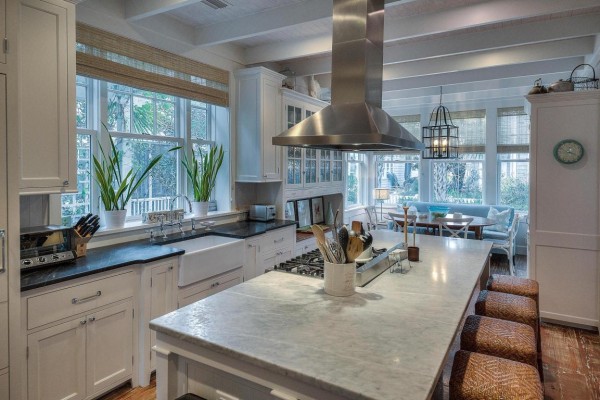 This three story wood frame cedar and shake sided, Martha Vineyards style home, fits perfectly in the community of WaterSound Beach. The numerous porches, screen rooms, the all brick fireplace finished in coquina plaster like the St Augustine Tabby stone, blends the East coast charm with this modern New Urbanism development. The flooring was salvage antique pine, milled in rough sawn, painted white then sanded to a smooth finish. This technique leaves traces of white in the grains and crevices, making the floors look weathered from years past. The whole interior of the house is filled with wood, wainscoting, ceilings, and exposed beams, there is no drywall. The cabinets are inset with recessed panels, that were custom built and the appliances were covered with paneling to match cabinets. The countertops are a mix of soapstone and granite on island. As you wander through the house, you see lots of built in niches and cabinets galore. The master bedroom has a private porch nestled into one of the gables and the bath is done in Carrera marble with Waterworks exposed plumbing fixtures.
Shane's favorite feature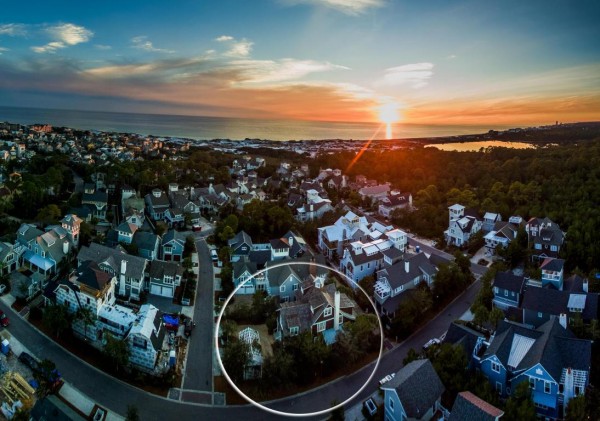 "Without a doubt, the kitchen / island area turned out incredible! This kitchen makes for a comfortable area and a perfect place to linger, while entertaining and cooking. The overall architectural design and quality of materials and workmanship gives this house a warm and homey feel that you would swear it was a 100 year old home that had just been completely restored to its original splendor."
Lisa's favorite feature
"I love Shingle style homes with a loft tucked into the gabled attic area, but the feature of the squared cupola with the windows, made this area glow with the perfect amount of direct sunlight. Using the loft area as a kid's zone was a fantastic idea and the entertainment center with a built in snack fridge, sleeping bunks, the bathroom, and free standing, claw foot tub with a view, made me want to be a kid again!"